I hope you all had a great weekend!!
Mine was pretty great to say the least!
I would share every detail with you
but
I have some exciting announcements that I just cant wait to share instead!
After getting out of my bad blogger spell I decided that this little blog here needed some new accessories!
You might already see the changes over there ---->
I decided Raids of Orange needed to get a little more modern and networkable so I now have...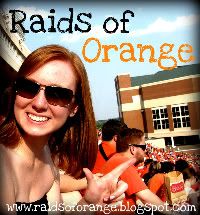 This new accessory is the one I am the
most excited
about! I have been trying to get a button for what feels like
forever
! After reading several tutorials I finally had a "ahh ha" moment and was able to create this pretty little thing!
What do you think?! Do you like it?!
I kinda think you should go ahead and grab this pretty little button and put it on your
beautiful
blog! ;)
I also now have a...
Facebook page
and
Twitter account
!
(I am completely new to Twitter so bare with me while I figure it out! If you have any tips or advise for it please share your words of wisdom!)
Which you can go "like" and follow thorough the buttons on my sidebar!
These pages are gonna be so great because you can expect to see...
- New Post announcements
- Random thoughts and updates that run through my mind
- Pictures I might randomly happen to snap
- Heads up on giveaways
- Introductions to blogs that I love
- and much much more!
Now that you know all of the awesome extras that are gonna be happening, after you add my pretty little button to your blog, you should follow me through twitter and like my Facebook page! ;)
So there you have it folks! Im all updated, socially networked and read to go!
Im really excited about these new changes and I think they will be a great thing for this little 'ol blog of mine! I have big dreams for Raids of Orange and I think this is just one of the little steps for making those happen!
I hope you all have a GREAT start to your week and you smile at least 100 times today!
:)
Kaitlin Jean